http://en.wikipedia.org/wiki/Eduardo_Galeano

Eduardo Hughes Galeano (2005)
Born: September 3, 1940 (1940-09-03) (age 70)
Montevideo, Uruguay
Pen name: Eduardo Galeano
Occupation: Journalist
Nationality: Uruguayan
Period: 20th century
Spouse(s): Helena Villagra
This name uses Spanish naming customs; the first or paternal family name is Hughes and the second or maternal family name is Galeano.
>>>>>>>>>>>>>>>>>




Eduardo Hughes Galeano (born September 3, 1940) is a Uruguayan journalist, writer and novelist. His most well known works are Memoria del fuego (Memory of Fire, 1986) and Las venas abiertas de América Latina (Open Veins of Latin America, 1971) which have since been translated into twenty languages and transcend orthodox genres: combining fiction, journalism, political analysis, and history. The author himself has proclaimed his obsession as a writer saying, "I'm a writer obsessed with remembering, with remembering the past of America above all and above all that of Latin America, intimate land condemned to amnesia."[1]

Contents
* 1 Life
* 2 Works
* 3 Bibliography
* 4 See also
* 5 References
* 6 External links

Life

Galeano was born in Montevideo, Uruguay to a middle class Catholic family of European descent (Welsh,Spanish,Italian and German descent). Like many young Latin American boys, Galeano dreamed of becoming a football (soccer) player; this desire was reflected in some of his works, such as El Fútbol A Sol Y Sombra (Football In Sun and Shadow). In his teens, Galeano worked odd jobs — as a factory worker, a bill collector, a sign painter, a messenger, a typist, and a bank teller. At 14 years, Galeano sold his first political cartoon to the Socialist Party weekly, El Sol and married for the first time in 1959. He started his career as a journalist in the early 1960s as editor of Marcha, an influential weekly journal which had such contributors as Mario Vargas Llosa, Mario Benedetti, Manuel Maldonado Denis and Roberto Fernández Retamar. For two years he edited the daily Época and worked as editor-in-chief of the University Press. In 1962, having divorced, he remarried to Graciela Berro.

In 1973, a military coup took power in Uruguay; Galeano was imprisoned and later was forced to flee. His book Open Veins of Latin America was banned by the right-wing military government, not only in Uruguay, but also in Chile and Argentina. [1]. He settled in Argentina where he founded the cultural magazine, Crisis. In 1976 he married for the third time to Helena Villagra, however in the same year the Videla regime took power in Argentina in a bloody military coup and his name was added to the lists of those condemned by the death squads. He fled again, this time to Spain, where he wrote his famous trilogy: Memoria del fuego (Memory of Fire). Galeano in 1984

At the beginning of 1985 Galeano returned to Montevideo, where he continues to live. Following the victory of Tabaré Vázquez and the Broad Front alliance in the 2004 Uruguayan elections marking the first left-wing government in Uruguayan history Galeano wrote a piece for The Progressive titled "Where the People Voted Against Fear" in which Galeano showed support for the new government and concluded that the Uruguayan populace used "common sense" and were "tired of being cheated" by the traditional Colorado and Blanco parties. [2] Following the creation of TeleSUR, a pan-Latin American television station based in Caracas, Venezuela, in 2005 Galeano along with other left-wing intellectuals such as Tariq Ali and Adolfo Pérez Esquivel joined the network's 36 member advisory committee.[3]

In 2006, Galeano signed a petition in support of the independence of Puerto Rico from the United States of America.

On February 10, 2007, Galeano underwent a successful operation to treat lung cancer.[4] During an interview with journalist Amy Goodman following Barack Obama's election as President of the United States in November 2008, Galeano said, "The White House will be Barack Obama's house in the time coming, but this White House was built by black slaves. And I'd like, I hope, that he never, never forgets this."[5] At the April 17, 2009, opening session of the 5th Summit of the Americas held in Port of Spain, Trinidad and Tobago, Venezuelan President Hugo Chavez gave a copy of Galeano's Open Veins of Latin America to U.S. President Barack Obama, who was making his first diplomatic visit to the region.[6] This made the English language edition of the book go to #2 position and the Spanish version to #11 on the Amazon.com bestseller list.

In a May 2009 interview he spoke about his past and recent works, some of which deal with the relationships between freedom and slavery, and democracies and dictatorships; "... not only the United States, also some European countries, have spread military dictatorships all over the world. And they feel as if they are able to teach democracy...". He also talked about how and why he has changed his writing style, and his recent rise in popularity.[7]
[edit] Works

"Fleas dream of buying themselves a dog, and nobodies dream of escaping poverty: that, one magical day, good luck will suddenly rain down on them - will rain down in buckets. But good luck doesn't rain down, yesterday, today, tomorrow or ever. Good luck doesn't even fall in a fine drizzle, no matter how hard the nobodies summon it, even if their left hand is tickling, or if they begin the new day on their right foot, or start the new year with a change of brooms. The nobodies: nobody's children, owners of nothing. The nobodies: the no-ones, the nobodied, running like rabbits, dying through life, screwed every which way. Who are not, but could be. Who don't speak languages, but dialects. Who don't have religions, but superstitions. Who don't create art, but handicrafts. Who don't have culture, but folklore. Who are not human beings, but human resources. Who do not have faces, but arms. Who do not have names, but numbers. Who do not appear in the history of the world, but in the crime reports of the local paper. The nobodies, who are not worth the bullet that kills them." – Eduardo Galeano, "The Nobodies" [8]


Las venas abiertas de América Latina (Open Veins of Latin America) is arguably Galeano's best-known work. In this book, he analyzes the history of Latin America as a whole from the time period of European contact with the New World to contemporary Latin America arguing against European and later U.S. economic exploitation and political dominance over the region. It was the first of his many books to be translated by Cedric Belfrage into English. It is a classic among scholars of Latin American history. The book gained popularity in the English-speaking world after the Venezuelan President Hugo Chavez gave it as a gift to the American President Barack Obama.

Memoria del fuego (Memory of Fire) is a three-volume narrative of the history of America, North and South. The characters are historical figures; generals, artists, revolutionaries, workers, conquerors and the conquered, who are portrayed in brief episodes which reflect the colonial history of the continent. It starts with pre-Columbian creation myths and ends in the 1980s. It highlights not only the colonial oppression that the continent underwent but particularly the long history of resistance, from individual acts of heroism to mass revolutionary movements.

Memoria del fuego is widely praised by reviewers. Galeano was compared to John Dos Passos and Gabriel García Márquez. Ronald Wright wrote in the Times Literary Supplement: "Great writers... dissolve old genres and found new ones. This trilogy by one of South America's most daring and accomplished authors is impossible to classify."

In New York Times Book Review Jay Parini praised as perhaps his most daring work The Book of Embraces, a collection of short, often lyrical stories presenting Galeano's views on emotion, art, politics, and values, as well as offering a scathing critique of modern capitalistic society and views on an ideal society and mindset. (The Book of Embraces was the last book Cedric Belfrage translated before he died in 1991.)

Galeano is also an avid Soccer fan; in his chidlhood, Galeano had the dream of becoming a soccer player and this desire is the subject of some of his writings, among them Soccer in Sun and Shadow (1995), a review of the history of the game. Galeano compares it with a theater performance and with war; he criticizes its unholy alliance with global corporations but attacks leftist intellectuals who reject the game and its attraction to the broad masses for ideological reasons.

Galeano's Espejos (Mirrors) is Galeano's most expansive work since Memory of Fire. Galeano offers a broad mosaic of history told through the voices of the unseen, unheard, and forgotten. Recalling the lives of artists, writers, gods and visionaries, Galeano's makes "lore out of the mass of history and stories that make this world, and make us human." (Rick Simonson) Mirrors is set to be published in the US in English by Nation Books in June 2009.

Galeano is a regular contributor to The Progressive and the New Internationalist, and has also been published in the Monthly Review and The Nation.
See Link Source ~
http://en.wikipedia.org/wiki/Eduardo_Galeano
~~~~~~~~~~~~~~~~~~~~~~~~~~~~~~~~~
Video 1:21:22~Eduardo Galeano Chronicles the History of Human Adventure~Los Angeles Public Library > http://ning.it/d0lLRT
~~~~~~~~~~~~~~~~
VIDEO 9:58~ 'Open Veins of Latin America' author Eduardo Galeano on Democracy NOW! 2006 (Part 1) > http://ning.it/95YsOX
~~~~~~~~~~~~~~~~
VIDEO~8:39~ 'Open Veins of Latin America' author Eduardo /Galeano on Democracy NOW! 2006 (Part 2) > http://ning.it/cxjB2G ~
~~~~~~~~~~~~~~~~
VIDEO~9:56~'Open Veins of Latin America' author Eduardo Galeano on Democracy NOW! 2006 (Part 3) > http://ning.it/bVhx0b ~
~~~~~~~~~~~~~~~~~
Link Source~
http://www.washingtonpost.com/wp-dyn/content/article/2009/06/11/AR2009061104627_pf.html
~~~~~~~~~~~~~~~~~~~~~~~~~~~~~~~~~~~~~~
Scenes From the Life of a South American Literary Legend
By Eduardo Galeano ~ Sunday, June 14, 2009

WHEN I WROTE "Soccer in Sun and Shadow," I wanted fans of reading to lose their fear of soccer and fans of soccer to lose their fear of books. I never imagined anything more.

But a former member of the Mexican congress, Victor Quintana, told me the book saved his life. In the middle of 1997, he was kidnapped by contract killers, hired to punish him for exposing some nasty business.

They had him trussed up, face in the dirt, and were kicking him to death, when, just before finishing him off with a bullet, they started arguing about soccer. Victor, more dead than alive, put in his two cents. And he started telling stories from my book, trading minutes of life for every tale out of those pages. Time and stories came and went, and at last the murderers left him, beaten and broken, but alive.

"You're okay," they told him, and they took their bullets elsewhere.
-- -- --
I don't know Jorge Ventocilla. Rather, I've never met him, but my books are his friends, so I am too.

When "Mirrors" was first published in Spanish last year, Jorge decided that the book, not readily available in Panama, ought to be handed around from one reader to another.

Though his savings didn't amount to much, in a flight of fancy he used them all to buy copies of "Mirrors," and he set them loose in cafés, stores, barbershops, kiosks, everywhere. He inscribed each one:

"This free book is a traveling book. Read it and pass it on."

And so it was.
-- -- --
In 1971, I submitted "Open Veins of Latin America" for the Casa de las Américas prize in Cuba. It lost. Perhaps the jury thought the manuscript was not serious enough.

Later on, the book got published. Perhaps the military dictatorships that had spread across Latin America thought it too serious. They burned it.

But in my country, Uruguay, "Open Veins of Latin America" circulated freely among political prisoners during the first few months of military rule. The censors thought it was a textbook on anatomy, and medical texts were not forbidden.
-- -- --
A few years ago, at a school in Salta in the north of Argentina, I was reading stories to 8- and 9-year-olds.
Afterward, the teacher asked the children to write to me, commenting on what I had read.
One of the letters counseled: "Keep at it, you'll improve."
-- -- --
In March 2007, in the Yucatan, "The Book of Embraces" was banned from the jail in Mérida "because it contains diabolical things." Some time before that, in San Jose, Costa Rica, I'd met a girl who was reading it in the bus station. "I always bring it along when I travel," she told me. "It's my portable boyfriend."
-- -- --
In "Mirrors," I tell stories that are barely known or simply unheard of.

One of them occurred in Spain in 1942. After Francisco Franco's coup d'état had annihilated the Spanish Republic, the dictatorship trumpeted the news that a prisoner, Matilde Landa, was going to publicly repent of her satanic beliefs and receive the holy sacrament of baptism in the prison yard.

The ceremony could not begin without the guest of honor, but Matilde could not be found. She was up on the roof. Suddenly, she threw herself off and exploded like a bomb when she hit the ground. The show went on. The bishop baptized her shattered body.

"Mirrors" was at the printers when I received a letter from the copy editor at the publishing house.

She wanted to know where I got that story. The facts were correct, but she knew it only as a family secret.
Matilde Landa was her aunt.
-- -- --
A few months ago, I read some stories at the University of Mexico.

One of them, from my book "Voices of Time," recounts how a Uruguayan troupe visiting Spain put on a play by Federico García Lorca, the poet executed by Franco and banned during the long dictatorship. It was the first time the play had been performed after decades on the blacklist.

When the curtain came down, the audience applauded, but with their feet, stamping on the floor. The actors were stunned. Had they done such a poor job? A moment later they received a prolonged ovation.

In my story I suggest the thundering of feet might have been for the playwright, shot for being a Red, a fag, a weirdo. A way of saying: "Federico, listen."

And when I told this story at the University in Mexico, something happened that had never happened before on the many other occasions I had told it: 4,000 students applauded with their feet, stamping their hearts out, as if they too were sitting in that theater in Madrid so many years ago. Federico listened.
-- -- --
At one of my storytelling sessions, in the Spanish town of Ourense, a man in the back row kept staring at me, an unblinking, impassible mask. When the reading ended, he approached slowly, fixing me with his gaze as if he wanted to kill me. Fortunately, he didn't. Instead, he said, "It must be so hard to write so simply."

And after that remark, the highest praise I have ever received, he turned on his heel and left.
-- -- --
The Bolivian town of Llallagua lived from the mine, and in the mine its miners died. Deep in the shafts in the bowels of the mountains, they hunted veins of tin and lost, in a few short years, their lungs and their lives.

I spent some time there and made good friends. The last night, we were drinking, my friends and I, singing laments and telling bad jokes till just before dawn. When little time remained before the scream of the siren that would call them to work, my friends fell silent, all of them at once. Then one asked, or pleaded, or ordered: "And now, my brother, tell us about the sea."

I was speechless. They insisted: "Tell us. Tell us about the sea."

It was the most difficult challenge in all my storytelling life. None of these miners would ever know the sea; each was doomed to die young. And I had no choice but to bring them the sea, the sea that was so far away, discovering words that could drench them to the bone.
--Translated from the Spanish by Mark Fried
~~~~~~~~~~~~~~~~~~~~~~~~~~~~~~~
Eduardo Galeano: In the Crucible

He was born Eduardo Hughes Galeano in Uruguay in 1940, a descendant of middle-class European immigrants. By the time he was 14, he was publishing cartoons in newspapers. By 20, he was editor of Uruguay's famous left-wing weekly La Marcha. Shortly thereafter, he became top executive of Montevideo's paper of record, Época. In 1971, at 31, he published a hair-raising indictment of North American influence on the hemisphere, "The Open Veins of Latin America." Just this past April at the Summit of the Americas, Hugo Chavez handed a copy of that book to Barack Obama.

For all the ease with which Galeano slid into journalism, the rest of his writing life hasn't been easy. After Uruguay's 1973 military coup, he was arrested for his radical views and imprisoned. He broke free and fled to Argentina where, three years later, he had to flee again. The notorious Brigadier Gen. Jorge Videla, who had deposed Isabel Perón, installed a regime that became known for its secret camps, kidnappings and torture. When Galeano's name appeared on Argentine death squad lists, he escaped from Buenos Aires and settled in Spain, where he wrote his three-volume masterwork, a bracingly original narrative of America's 500 years of history, "Memory of Fire." Like the accompanying essay, it is a mosaic of miniatures, strung together to fashion a powerful and moving portrait. "We Latins are known for jabbering on," he told me. "I wanted to write it all sharper and shorter."

Surviving lung cancer a few years ago freed him, he says, to employ an even larger canvas: His new book, "Mirrors," reflects 5,000 years of human experience. But it does so with a keen sense of perspective.

For all the past that Galeano captures, this is a writer who lives right now.

http://www.washingtonpost.com/wp-dyn/content/article/2009/06/11/AR2009061104626.html
++++++++++++++++++++++++++++++++++
http://bit.ly/q8bNj
Chávez creates overnight bestseller with book gift to Obama
Sales surge for book about history of Latin America's exploitation after exchange at summit of Americas
* Andrew Clark * guardian.co.uk, Sunday 19 April 2009 15.12 BST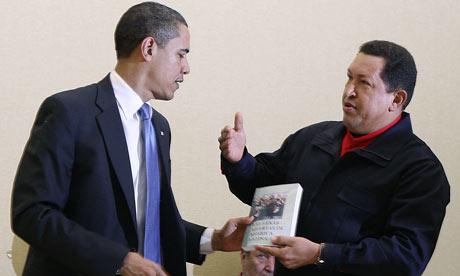 Hugo Chavez gives Barack Obama a copy of Las Venas Abiertas de America Latina (The Open Veins of Latin America) by Eduardo Galeano during a meeting at the Summit of the Americas. Photograph: Ho/Reuters
A 36-year-old historical tract attacking the imperialist exploitation of Latin America has become an improbable overnight bestseller after the Venezuelan president Hugo Chávez abruptly presented a copy to Barack Obama.
During a session of the summit of the Americas in Trinidad at the weekend, Chávez strode up to Obama, patted him on the shoulder and, with a friendly handshake, gave him a paperback copy of Eduardo Galeano's 1973 work, Open Veins of Latin America: Five Centuries of the Pillage of a Continent.
As footage of the encounter appeared on news bulletins, the book rocketed up the US paperback sales chart of the online bookseller Amazon, soaring from number 54,295 to sixth place within 24 hours.
A classic work in left-wing circles, Galeano's book analyses five centuries of unequal relations with Europe and the US. It contends that Latin America has been abused as industrialised nations plundered its natural resources, ranging from gold and silver to cocoa and cotton.
Obama accepted the book in good humour, telling reporters: "I thought it was one of Chávez's books. I was going to give him one of mine."
The US president has made it clear that he wants a friendlier relationship than his predecessor with Chávez, who once described George Bush as the "devil" and who frequently railed against the US for providing flawed global leadership.
After meeting Obama, Chávez suggested on Saturday that Venezuela was ready to send an ambassador to Washington, ending a diplomatic impasse which began in September. The summit was also notable for further signs of a thaw in US-Cuban relations.
It is not the first time that Chávez has influenced the readers of the world. Three years ago he publicly praised a Noam Chomsky tome, Hegemony or Survival: America's Quest for Global Dominance, at the United Nations. The book surged to the top of Amazon's bestseller list.
Galeano's book could provide food for thought in the White House. A highly controversial work, it was banned during periods of military leadership in Chile, Argentina and Uruguay. In a famous passage, it argues: "Our defeat was always implicit in the victory of others; our wealth has always generated our poverty by nourishing the prosperity of others."
A recent edition contains an introduction by the novelist Isabel Allende, who writes that the book was one of a handful of items she took with her when she fled Chile after a military coup in 1973 along with a bag of dirt from her garden, some family pictures and clothes.
Advisers to Obama suggested, however, that a practical problem may interfere with the president's enjoyment of the book. When asked whether Obama was likely to read it, White House spokesman Robert Gibbs said: "I think it's in Spanish, so that might be a tad on the difficult side."
>>>>>>>>>>>>>>>>>>>>>>>>>>>>>>>>>>>>>>>>>>>>>>>>>>>>>>>>>>>>>>>>
Comment: Gibbs is a bias culturalist here as he should know the book is also in English. ~PSLopez

++++++++++++++++++++++++++++++++++
Key Profiles, Bios + Links Blog